In his book 'New Concepts In Technical Trading Systems' J. Welles Wilder Jr. introduced RSI - the Relative Strength Index.
RSI - together with MACD - must be one of the most popular and most widely used technical indicators of all times.  RSI tries to gauge market strength or weakness relative to the most previous price action history.
RSI is calculated by comparing the number of bars that closed up (close > open) with the number of bars that closed down (close < open).  This ratio is sometimes smoothed with an exponential moving average (usually over the last 9 candles).
RSI (Relative Strength Index) in action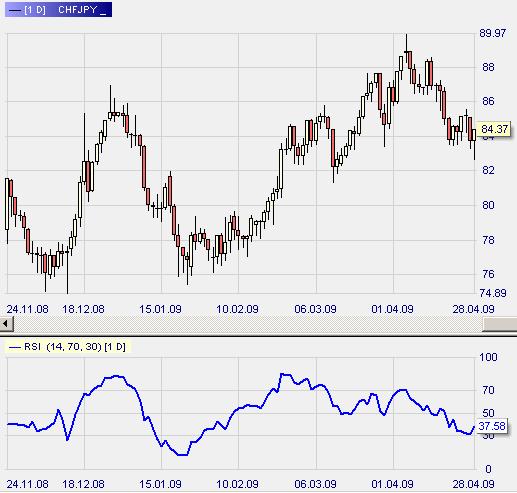 RSI is shown in action on this daily CHF/JPY-chart.  RSI in this case is configured with parameters 14, 70 and 30, which have the following significance:
14: the number of candles used to count the up- versus down-bars
70: upper threshold
30: lower threshold
If  RSI climbs above the upper threshold, theory has it that the market might be overbought.  This would be a good moment to consider exiting your long position, or at least to tighten up any stops you may use.  If RSI falls through the lower threshold, the market is believed to be oversold. In that case be ready for a new long entry, or to exit a short position or, like before, tighten up any stop you might use to protect short positions.
Leave a Reply
You must be logged in to post a comment.