Coppock Indicator, your ticket to long term trend detection
Back in the Sixties (yeah, those in the previous century), E. Coppock published his Coppock Indicator in Barron's Magazine, which is based on smoothing the sum of two 'rate of changes', which in fact makes the Coppock Indicator a momentum oscillator. ROC-14 is added to ROC-11 and the result is smoothed with a 10 period 'weighted moving average'.
The Coppock Indicator in action: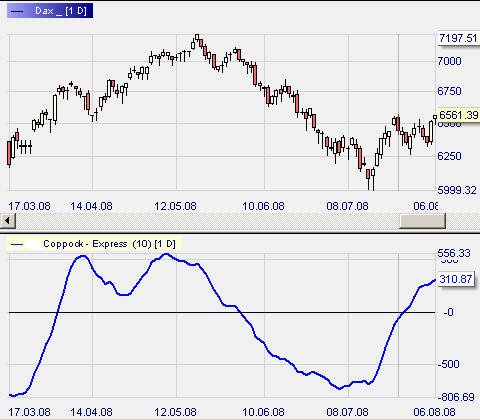 A long entry signal is flagged when the indicator line is below the zero-line and then turns upwards from a trough. Curiously enough, generating corresponding sell signals was not part of the initial design, as the Coppock Indicator was only meant to be used in the stock market, where at the time opening short positions was not catered for. As this daily FDAX chart seems to suggest, mirror image short  signals could be valid as well. The Coppock indicator is trend-following, and being based on momentum and a moving average, it's a lagging indicator.
The Coppock Indicator could be improved upon in a number of ways:
Pre-process price action to get smoother ROC/momentum to start with.
Using low-lag or even no-lag averaging techniques, to reduce indicator lag.
Leave a Reply
You must be logged in to post a comment.