Moving Averages hold the promise of showing the trend part of price action.  They do this by removing high frequency signal content from your noisy price action data series (i.e. Moving Averages remove 'noise'), hoping that what is left will indeed show trend information more clearly…
Removing noise comes at a price though, as most any method that does introduces lag in the signals that an indicator can provide. Moving Averages try to attribute a significance to recent price action, without any guarantee that this will indeed influence the near future.
Calculating a Moving Average
There are many different ways to calculate moving averages:
standard Moving Average, MA (equally weighted candles)
Exponential Moving Average, EMA (the most recent candles are weighted most, with weighing decaying according to an exponential function as the older candles in the observation window are evaluated)
Weighted Moving Average, WMA (also weighs recent candles most, but does so in a linearly decaying weighing function).
Using Moving Averages
The following illustration shows a 10-candle Moving Average on 2008/2009 end-of-day Bund-Future data: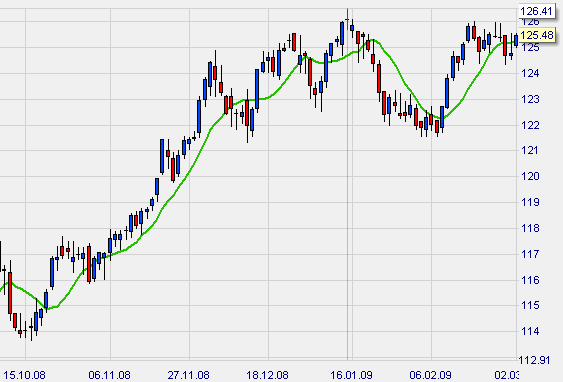 As you will notice, the green line's turning points always come a bit later than the turning points in the price action.  This is the aforementioned lag in the signal, caused by removing superfluous noise.  Keep that in mind when basing a trading system on Moving Averages!
A very polar method to used Moving Averages is to use multiple of them, and use the crossing MA's as a signal for an entry, as is shown in the illustration below: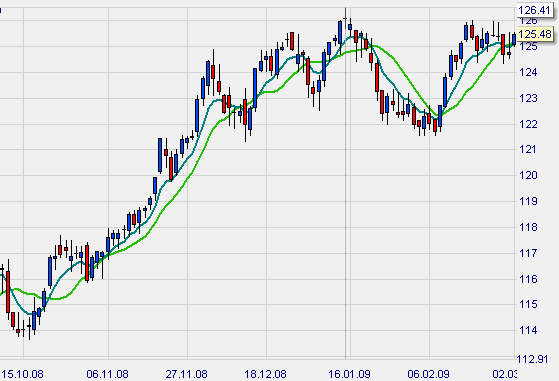 In this example, a 7-candle Exponential Moving Average (EMA) is combined with a 12-candle standard Moving Average, the crossings of which can signal significant market swings.  The problem of course is when markets are consolidating, in which case the signals not only come too late, but also the market will be turning on you once you opened a position.  In this sense, Moving Averages - in whatever guise - should be used as a trend continuation signal, less so as an entry signal.
Leave a Reply
You must be logged in to post a comment.