The first weekend of May 2010 brings the long anticipated financial bailout for Greece, but judged by the price action on the currency trading markets, investors don't really put renewed trust in the Euro...
Let's just see what happened when the markets re-opened after the bailout announcement: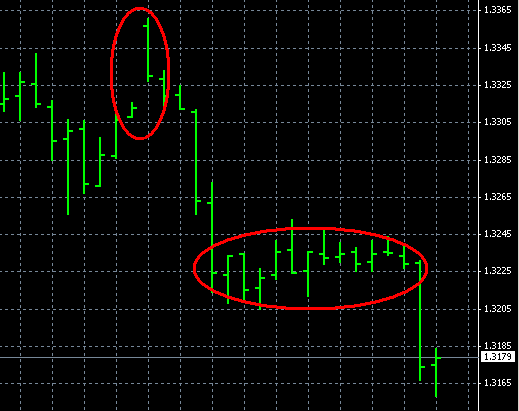 On Sunday evening, the market open gapped up a bit over 40 pips after the EC announced that they will help bailout the Greek from their current predicament.  See the left ellipse that shows the opening gap for the week.
Opening gap closed within three hours….
Within three hours, the gap was closed - and that event marked the start of a dip even further south.  After only two more hours of volatile price action, the EUR/USD chart documents currency transactions being done some 100 pips lower.  Some support for the Euro.  But wait, there is more…
Consolidation during the European trading session
Apparently, the Europeans could not make up their minds, as a consolidation range roughly in between 1.3205 and 1.3250 ensued.  (see the second ellipse marking this trading range).  Of course, one could hardly expect the Europeans to trade their currency down even further, but there wasn't much support from them either.
Start of US trading session marks yet one more dip for the Euro
Well, it took the start of the US trading session to break that consolidation range, pushing the Euro down even further.
Why didn't the bailout for Greece lend support to the Euro?  Most likely, it's because doubts about other Euro-zone countries like Portugal, Spain and Ireland spawn fears that the Euro-zone will not be able to bail out all of them, should that need arise…
So we've had an interesting start of the week - and some even more interesting months or even quarters ahead of us…
Leave a Reply
You must be logged in to post a comment.