In his classic "New Concepts In Trading Systems", J. Welles Wilder was one of the first to publish information about using a Momentum Indicator to play the financial markets.
A Momentum Indicator shows how much price has changed since a pre-defined number of bars ago.  In a slightly different guise, you could also call it 'rate of change', akin the first derivative of a curve: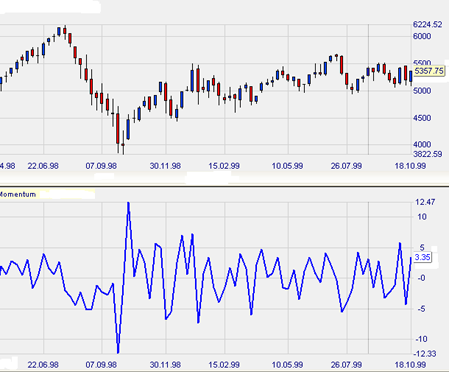 The upper pane shows old weekly FDAX data, the lower pane shows the Momentum Indicator that in this case shows the different between the close of the current bar and the close of 10 bars ago.  In this chart, each bar represents the Open/High/Low/Close (OHLC) of an entire week.
Please note the following:
The Momentum Indicator oscillates around the zero-line.  If it's above zero, price has risen since the last x bars, if the momentum indicator is below zero, price has fallen since the last x bars.
Even if it looks like any other oscillator, the maximum values are not limited.  There no fixed ranged from say -100 to +100, price action over the last x bars dictates the values you're going to see.
Leave a Reply
You must be logged in to post a comment.